September 29, 2023 – A "world of ingredients" opens up at Frankfurt Messe from November 28 to 30.
Innova will be exclusive Knowledge Partner to Food Ingredients Europe (FiE), the show that brings the world's tastemakers together. Here is what business leaders and industry innovators can expect from Innova on the FiE show floor:
Exclusive presentations
Sustainability unwrapped: Consumer attitudes and behaviors through a generational lens
During this insightful presentation Innova will reveal consumers values, priorities and behaviors regarding sustainability. Different generations show different levels of engagement and investment surrounding environmental issues. Understanding the values and actions of their target audience will help pave the way for brands to effectively connect to consumers.
F&B Top Ten Trends for 2024
Innova's annual Top Ten Trends are the gold standard for food and beverage insights – a spotlight on the future that is vital to all industry innovators. Join this exclusive, live session that offers Innova's newly defined set of market and consumer trends for 2024!
Expertise at booth 3.1B160
Innova's subject matter experts will be on site at booth 3.1B160 to showcase trends, demonstrate our data platforms and answer questions. Visitors can enjoy displays of trending ingredients, discovering their market growth and related consumer insights.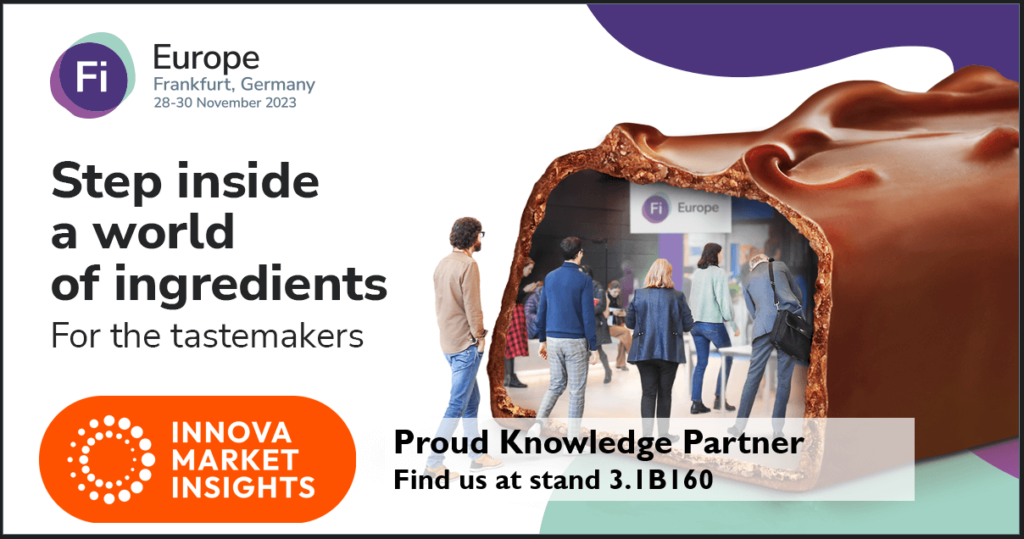 Trending topics at the New Product Zone
Innova's brand new Top Ten Trends for 2024 will form the backdrop of the New Product Zone at FiE. Come for the exciting new product launches displayed in this area –stay for the industry-leading market and consumer insights brought to you by Innova Market Insights.
We look forward to seeing old friends, meeting appreciated customers and creating new connections at FiE in November!