Leading up to Fi North America, SupplySide West happening this October in Las Vegas, Innova takes a look at the current market and consumer trends around functional ingredients.
In recent years, the demand for functional ingredients in the United States has been on the rise, reflecting a growing interest in healthy living and wellness.
Demand for Healthy Functionality
More than one in four consumers in the US (27%) actively choose positive nutrition. While hydration and exercise remain the top health strategies when it comes to boosting health, eating more whole plant foods (e.g. fruit, vegetables, nuts) also remains a favorite strategy. However, 36% of consumers in the US take supplements, with 29% choosing foods that support specific body functions.
Consumers have been buying products to support various aspects of their health, such as hydration, gut health, improved sleep, and heart health. 40% of American consumers only trust functional foods with scientifically proven efficacy, with protein, fiber, and omega-3s being the most accepted functional ingredients.
Supplements have become a common choice among Americans, with 38% regularly taking multivitamins or minerals. Only 22% of consumers do not take supplements at all. Overall, there is a net increase in supplement use, with 69% of users purchasing them at least once a month. The reasons for taking supplements include staying healthy, boosting immunity, and addressing specific health concerns.
Botanicals Revolution Continues
The plant-based revolution has expanded beyond meat and dairy substitutions, fueling demand for natural ingredients. In the US, 57% of consumers believe that products with natural ingredients are healthier, and 51% consider botanical supplements effective. Emerging categories include active mushrooms, adaptogenic plants, and algal ingredients, offering various health benefits.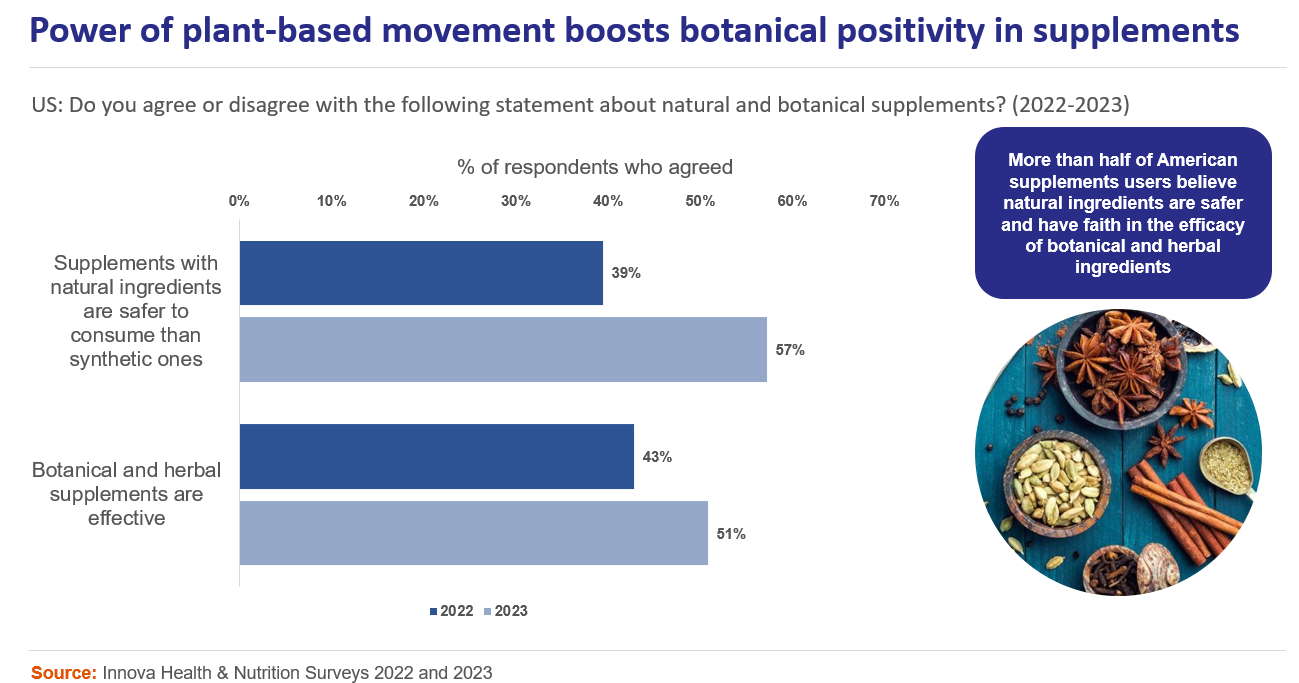 Minerals and Vitamins
The US stands out in its use of vitamins and minerals in food and beverages, with some vitamins mandated by law in certain products. Zinc has gained popularity due to its versatility, and vitamins are increasingly incorporated into new product development (NPD) to reinforce health claims.
Probiotics and Prebiotics
Gut health remains a top focus for Americans, followed closely by immune health. Probiotics have seen a decline in NPD, while prebiotics have gained ground in food and beverage applications. In supplements, probiotics are finding increased favor in brain and mood health products due to growing awareness of the gut-brain axis.
What's Next?
Aging well is becoming a growing focus for Americans, with many taking supplements to address healthy aging. The botanical world continues to offer innovative ingredients, with Indian Ayurvedic botanicals holding promise. Probiotics may still find favor in NPD, and establishing trust in new healthy ingredients is crucial, with digital platforms playing a vital role in consumer education.
The demand for functional ingredients in the US reflects a broader trend toward health and wellness. Consumers are increasingly looking for scientifically proven, natural ingredients that can support their overall well-being, and this trend is likely to continue evolving in the years to come.
Meet Innova at Fi North America, SupplySide West
Innova will be on site at stand #1267 to share about positive nutrition, functional ingredients and related consumer attitudes and behaviors. Discover our in-depth understanding of different generations at the special session "The Great Debate: A battle for the Generations," including our very own Sophie Côté.
Join Innova at Fi North America by registering here.
This article is based on our report, "The US Health Renaissance: The Emergence of Functional Ingredients."
If you are interested in receiving this report, feel free to request a demo through our Contact Form.