Dairy and dairy alternative ice cream and frozen yogurt include a range of single-serve and take-home ice cream and novelties, as well as frozen yogurt and sherbet.
Majority of Consumers Eat Desserts and Ice Cream 
Two-thirds of consumers globally report eating dairy and dairy alternative desserts and ice cream. With expanded choices in dairy alternative ice cream, about half of consumers globally consume dairy-based or dairy alternative ice cream at least once a week. Consumers in the Middle East and Africa are the most likely to consume dairy alternative ice cream on a regular basis. 
Consumers name taste and indulgence as their key reasons for consuming desserts and ice cream. As a result, taste and flavor are important. For those increasing consumption, the most popular reasons are a change in taste preferences and available variety. However, both health and indulgent claims influence purchases. Decreased consumption is explained by budget and unhealthfulness (40% of respondents). 
Asia Leads in Market Share and Market Growth  
Global retail sales of ice cream were US$113 billion in 2022. Asia has the largest share (42% value) and strongest growth (11.4% CAGR 2021-2023F) globally; within Asia, China (mainland) is the largest non-dairy and dairy market, and China and India show above-average growth. Despite being the largest market by sales, per capita consumption in China is relatively low. Each of the top 20 markets for per capita consumption of ice cream consume above the global average. Western consumers are the largest consumers, while consumers in the Middle East, Africa, and Asia (apart from Japan) are the smallest. 
The category forecast is for strong value growth and lower volume growth, driven by premium and value-added products.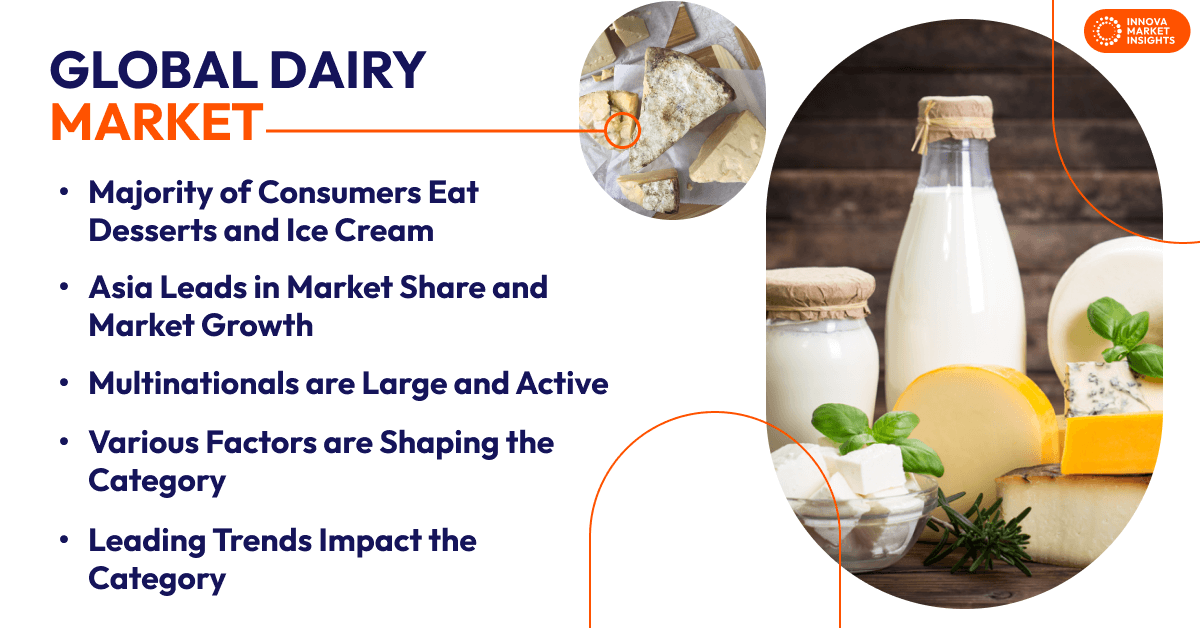 Multinationals are Large and Active 
Multinationals Unilever, Froneri, and General Mills are the largest and most active companies globally. To stay on top, Unilever (Ben & Jerry's, Magnum, and others) must continue to make its products exciting, and flavor development is key. Plant-based ice cream also is an area of innovation. General Mills owns only one ice cream brand, Häagen-Dazs. In addition to offering products via the retail market, General Mills also sells Häagen-Dazs to leased and franchised ice cream parlors around the world. This super-premium brand features indulgent flavors, along with seasonal and limited-edition flavors. Froneri operates on a regional and local basis. It also markets ice creams globally using well-known confectionery and sweet snack brands from Nestlé and Mondelēz International. Other key players include Mars (Europe), Blue Bell, Danone, and Wells Enterprises (Ferrero) (North America); Yili, Lotte, and Meiji (Asia); Bulla (Australia); Grupo Nutresa and Arcor (Latin America). 
Various Factors are Shaping the Category 
West Europe, Asia, and North America are all seeing weak rates of NPD, with maturing categories and category saturation. Growth is strongest in Latin America and in the Middle East and Africa. While the majority of NPD is dairy-based, dairy alternatives saw the biggest increases in recent years, with West Europe and North America as the most active regions. However, market saturation is resulting in weakening NPD. In Asia, 2022-2023 is the biggest year yet for dairy alternative NPD. 
Convenience-supporting claims are key, with sustainability-based claims posting strong growth, along with plant-based and indulgence. Increasingly, more brands are choosing to use the term plant-based rather than vegan to describe their dairy alternative ice creams, potentially reaching a wider consumer base. 
Leading Trends Impact the Category 
Several trends impact the non-dairy and dairy market, specifically for ice cream. Plant-Based: Unlocking a New Narrative supports innovation in non-dairy ice cream, with companies using a diverse range of plant protein ingredients. To satisfy Revenge Spending, companies can introduce and experiment with new indulgent flavors. Highlighting the use of fresh dairy ingredients supports Redefining Value, particularly in Asia, where product safety is a focus. 
What's Next? 
Ice cream, like many dairy-based categories, continues to innovate toward the perfect non-dairy. Recent developments include precision fermentation to create animal-identical whey proteins and further innovation in plant-based proteins for improved taste and texture. Products marketed as "animal-free" rather than vegan include those made with dairy-identical whey protein. 
Opportunity exists for companies to produce products that are both healthy and indulgent. Sustainability is also a growth area. 
This article is based on our report, "Global Trends in Dairy & Dairy Alternative Ice Cream."
If you are interested in receiving this report, feel free to request a demo through our  Contact Form.