September 11, 2023 – Innova looks forward to contributing to Anuga 2023, taking place October 7-11 in Cologne, Germany.
As Knowledge Partner to the world's leading fair for food and beverage, Innova will have a large team of experts on site to:
Reveal food industry trends

Share market and consumer insights
Offer daily presentations at the Anuga Trend Zone

Demonstrate Innova's easy-to-use data platforms and services

Support industry leaders with their strategic business questions

Innova's booth will be located right next to the Trend Zone stage in Boulevard North, where the team will also offer daily sessions: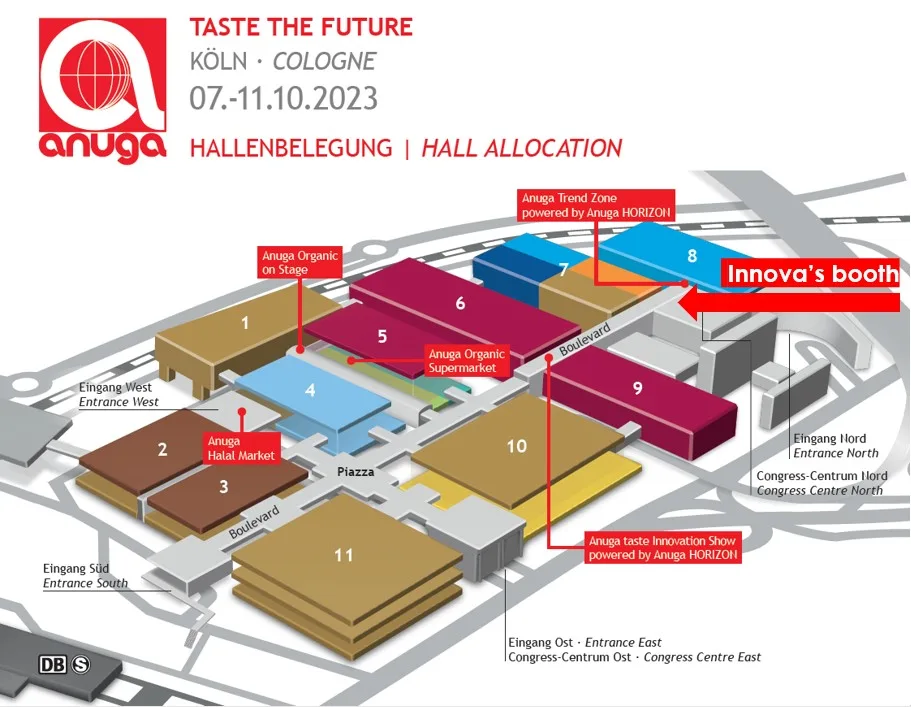 Daily presentations on hot topics
In our daily presentations at the Anuga Trend Zone Innova will guide the audience through three trending topics in the food industry:
Sustainable growth: Anuga's key theme for this year. From environmental concerns and solutions to associated economic and humanitarian aspects, this presentation by Innova will inform and inspire business leaders with examples of innovation, market trends and consumer values. Topics included are new farming practices and agricultural methods; consumer attitudes around sustainability, food waste and transparency; and brand actions and communication.
Nutritional value at the right price: Innova's surveys leave no doubt: consumers globally indicate they are looking for simple and more affordable solutions to meet their nutritional needs. While noticing inflationary pressures, consumers at each income level are stating health should be the main driver of future new product development. In this session Innova will cover consumer experiences and expectations in detail, and share about innovative action brands can take to turn a challenging situation into fruitful opportunities.
Generational push: The impact of Gen Z consumers and future opportunities: the voice of Gen Z is loud and powerful with a direct impact on new product development. Actively sharing their views, seeking interaction with brands and ready to vote on the next beverage flavor or a limited edition for ice cream, companies will benefit from embracing the influence of Gen Z and using it to their advantage. Don't miss this presentation for invaluable and exclusive insights into these young consumers and their priorities, preferences and values.
For all presentation times, visit Anuga's website.
Knowledge sharing: A long-term collaboration
Preparations for the live event are in full swing but the knowledge partnership between Anuga and Innova started much longer ago, with the collaboration taken to the next level in preparation for the 2023 event.
Innova prepared a set of guest blogs on popular themes in the food industry, and collaborated on the popular Snapshot Series: a set of co-hosted webinars organized by Anuga and Innova together.
Enjoy the content here:
Webinars
Upcoming: Connect, learn and engage – Insider tips to elevate your Anuga 2023 experience
On Demand: Nutritional value at the right price
On Demand: Anuga & Innova Market Insights present: Sustainable Growth
On Demand: Plant-based: Unlocking a new narrative

Blogs
Hand in Hand Against Food Waste: Government and Consumers Joining Forces
Crisis as a Catalyst: Reinventing the Out-of-Home Gastronomy
Win-Win Situation: Why Global Players and Start-ups Benefit from Each Other
Creativity, Quick Quality and Convenience-Plus: The Future of Frozen
Developments in the dairy and non-dairy sectors