6 in 10 Americans make breakfast at home on an average day, the other four might grab something on the way or rely on quick breakfasts. Quick breakfasts include products such as toaster pastries and cereal bars, allowing even the busiest of people to get their fix of the most important meal of the day. The quick breakfast category, loved for its convenience-based approach, is innovating itself to new heights. 
Affordable Nutrition in Quick Breakfasts 
Consumers are seeking increased value in the products they buy, in the form of added nutrition. This desire for added nutritional value cannot come at the cost of hindering their daily routines, creating the perfect opportunity for convenient breakfasts. Recent launches from General Mills and Kellogg's reflect this development having launched cereals with added vitamin D and Kodiak having launched higher protein oatmeal, showing that breakfast can be uncomplicated and doesn't have to cost a fortune. 
Plant-based Quick Breakfast Developments 
Plant-based innovation has doubled over the past couple of years with consumers showing a large interest in eating more plant-based products for health and environmental reasons. Quick breakfast startups have jumped into the marketplace and seized the opportunity to tap into underused ingredients and adopting new tech for greater nutrition and sustainability. A product that uses a new technology and adds a layer of sustainability is Seven Sundays' Oat Protein Cereal, a cereal that uses upcycled oat proteins from oat milk production. These upcycled oats have three times the protein and two times the fiber as whole oats.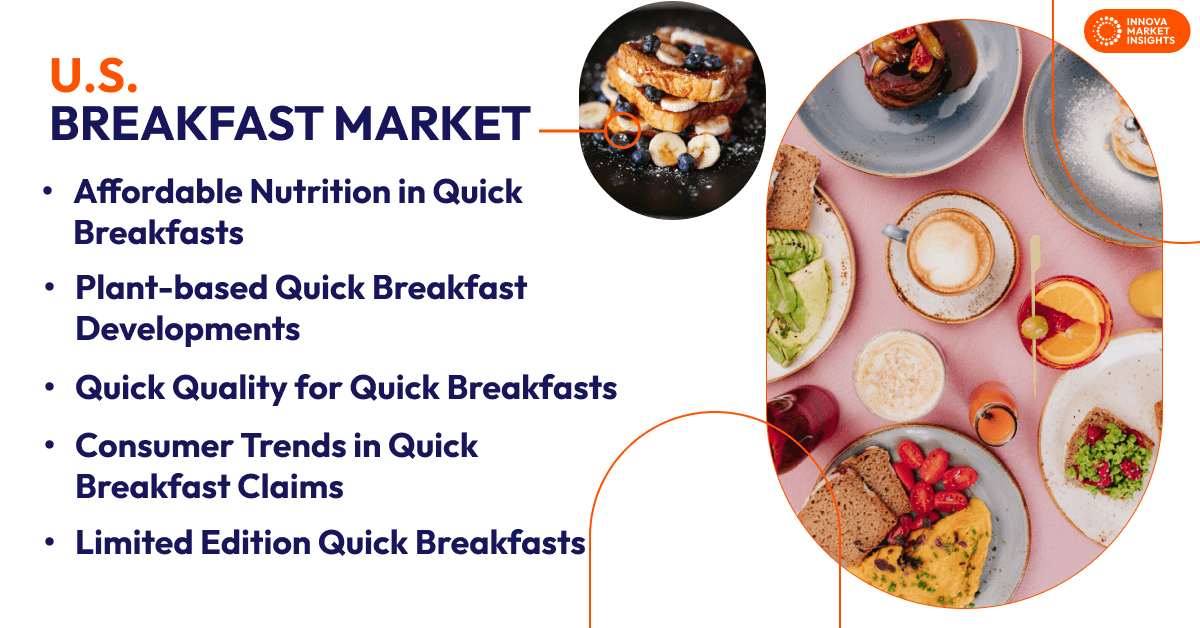 Quick Quality for Quick Breakfasts 
As consumers lead increasingly busy lives and are headed back to the office, quick breakfasts in handheld and snackable quick breakfast formats are in demand. These formats include handheld cereal bars and sandwiches since these ready-to-eat formats accommodate on-the-go eating occasions. Traditionally warmed breakfasts are emerging in ready-to-eat formats, allowing a hot breakfast to exist away from the dinner table. Kellogg's Eggo Grab & Go Liège-Style waffles and fully cooked omelets are an example of this development.  
Consumer Trends in Quick Breakfast Claims 
At 37%, wholegrain is the most common claim in quick breakfast product launches alongside high fiber launch claims at 20%, reflecting consumers' continued focus on increasing fiber intake. Wholegrain is followed by consumers' other area of focus, high protein, making up 30% of product launch claims. Gluten-free comes in third, making up 29% of launches, sending the message that allergen-consciousness and convenience can go together. Plant-based claims make up 9% of launches, with just over 1 in 10 launches carrying a plant-based claim, however, this number will continue to grow based on increasing numbers of new product launches. 
Limited Edition Quick Breakfasts 
New product development of limited-edition products increases year after year at a 9% growth rate (CAGR, 2018-2022). This growth can be attributed to the fact that brands are finding new ways to compete to stay fresh on consumers' mind. Brands play into the fact that young consumers flock to things they see online or that involve their idols, leading to products getting worldwide exposure or going viral. The limited supply also makes acquiring the product a short-term priority for consumers.  
One nostalgic flavored limited edition quick breakfast food is Kellogg's Icee Mixed Berry breakfast cereal that has the classic blue and red Icee colors and even offers a cooling-effect, cooling down your mouth as you eat. 
Another collaborative example of limited-edition quick breakfast products is Frosted Flakes x Minecraft. These Frosted Flakes come in a Minecraft Style box with Creeper Bit – a Minecraft character – marshmallows. The cereal also promises 350 free 'mine coins.' 
Launch Landscape 
Quick breakfast launches remain steady again this year at 3% of all food and beverage introductions. Most launches remain ambient at 84%, driven by cold and hot cereals. Looking further into cold cereals shows that 6 in 10 quick breakfast launches are cold cereal products. Frozen quick breakfast launches are more limited at 12% and declining (-9% CAGR), but sales show they are increasingly popular at retail, with appetite for innovation. 
We are also seeing simplicity-focused product launches that have removed preparation steps.  
What's Next? 
Brands will continue to rely on limited edition products and collaborations to keep their products top of mind, offering inspiring, new, or nostalgic flavors and experiences. Plant-based claims are one of the fastest-growing ingredient health claims. Plant-based quick breakfasts are here to stay and evolve, especially with health and environment conscious Generation Z and Millennials being keen on both aspects.  
This article is based on our report, "Beyond the Morning Rush: Navigating the Future Landscape of the Quick Breakfast Market in the US."
If you are interested in receiving this report, feel free to request a demo through our Contact Form.