Unpuzzle Health, one of Innova's top 10 trends for 2023, considers consumer trends by highlighting consumers' demand to make eating well easy and the growing importance of communication and certification to support consumers' health strategies. Two in five consumers prioritize health-positive food and beverage choices as part of their strategy for staying healthy, while the same number aims for a balanced diet. Health benefits rank first for consumers when asked what they think the focus of new food and beverage development should be.  
Certifications to Improve Trust 
Consumers are increasingly attentive to on-pack messaging, with nearly two-thirds claiming they always read health claims and labels. Yet only one in four consumers completely trust on-pack health claims, and two in three express partial trust. To improve trust, certification from recognized health bodies and better government regulation is needed.  
The Importance of Health Labeling 
Clarity and confidence in health labeling will become increasingly important to consumers. However, there is no clear indication of whether positive or negative messaging will dominate. In Latin America, where negative health warnings are prominent, consumers still show interest in positive "high in" claims. Companies will need to follow local trends when deciding how best to communicate their messages.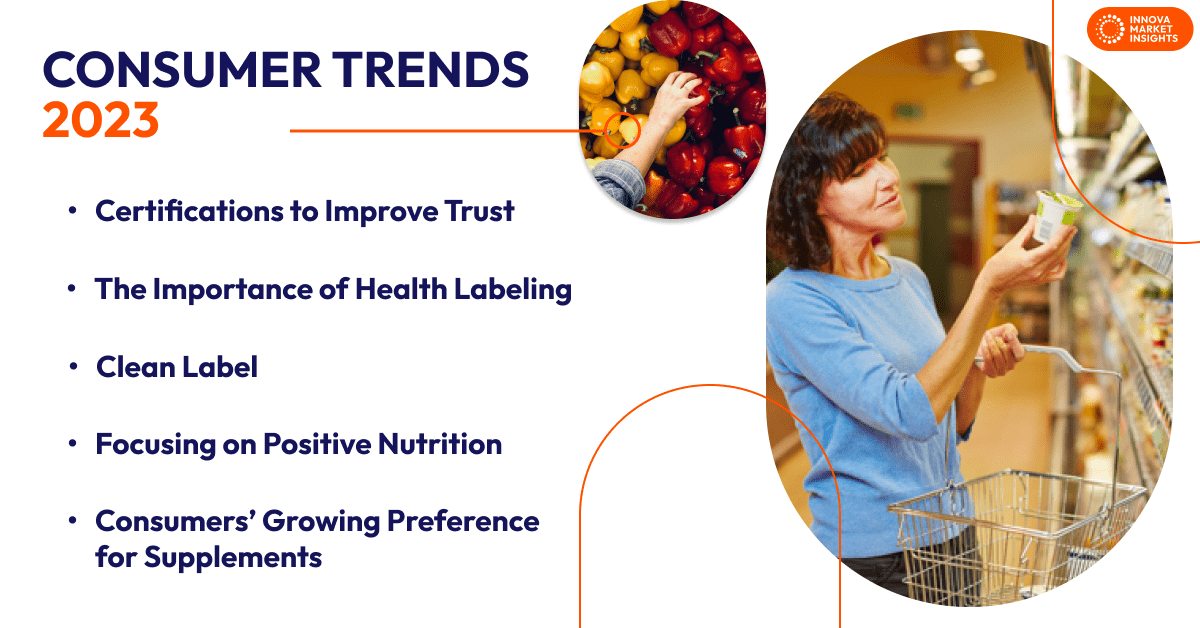 Clean Label 
As natural and clean labels are strongly associated with health, more than 50% of consumers say they are willing to pay more for a "natural" label. The trend of no- or low-processing is developing, with one in four consumers considering minimal processing a key aspect of a clean label. Brands are also starting to emphasize the absence of ultra-processed ingredients. 
Focusing on Positive Nutrition 
There is an upsurge in active health claims – those that actively promote health-boosting ingredients – with consumers focusing on positive nutrition for healthy eating. A significant number of consumers use foods to boost physical health, mood, and mental performance. Demand for adaptogenic ingredients is increasing, with a particular interest in immune and gut health products. On-the-go nutritional boosts, such as fiber-rich bars and cookies, are also on the rise.  
Consumers' Growing Preference for Supplements 
Convenience is essential for consumers when accessing daily nutrients. One in four prefer supplements due to their faster nutrient delivery. Over one in four consumers take a daily supplement, with a rising emphasis on mental health. Launches of mental health supplements have been growing at an average annual rate of 29% from 2018 to 2022. Young consumers are more invested in the novelty and efficacy of supplements, signaling a positive future for the industry. 
This article is based on our global report, "Established and Emerging Fiber in Food and Beverage."
If you are interested in learning more about consumer health trends, we are happy to tell you more about our complete range of reports and consumer research capabilities. You can do this by either booking a demo or using our Contact Form