Consumers feel they need to make changes while living through a 'polycrisis,' facing financial, health, and emotional challenges over recent years. These changes have revealed updated consumer trends, such as three in five consumers saying they are making lifestyle changes due to global issues of concern, and 21% have made much or a great deal of change. Understanding consumer trends and how and why consumer lifestyles and attitudes are changing is fundamental to ensuring your innovations meet evolving consumer needs.   
Personal and Local Connections   
Navigating the many global issues around them, consumers are placing more importance on local community and personal connections as they seek safety, reassurance, and belonging in an uncertain world, according to Innova's consumer trends analysis.   
Four prominent consumer trends are revealing how consumers are coping with these issues. The first of four consumer trends is that 64% of consumers say local communities will have to become more self-sufficient. The second consumer trend displays that the top action consumers are taking to be more socially and ethically responsible is supporting local growers, merchants, and producers in making their food and beverage choices. Valuing and investing in local is an enduring consumer trend.   
To manage anxiety around multiple crises in the world, consumers have spent time with family and friends, defining the fourth consumer trend. This further developing consumer trend illustrates the importance of close personal connections. In seeking to make this time more special, another consumer trend we will witness is increased shared experiences like rice buddying – a shared dining experience focused on social connection and expanding your social circle – in China.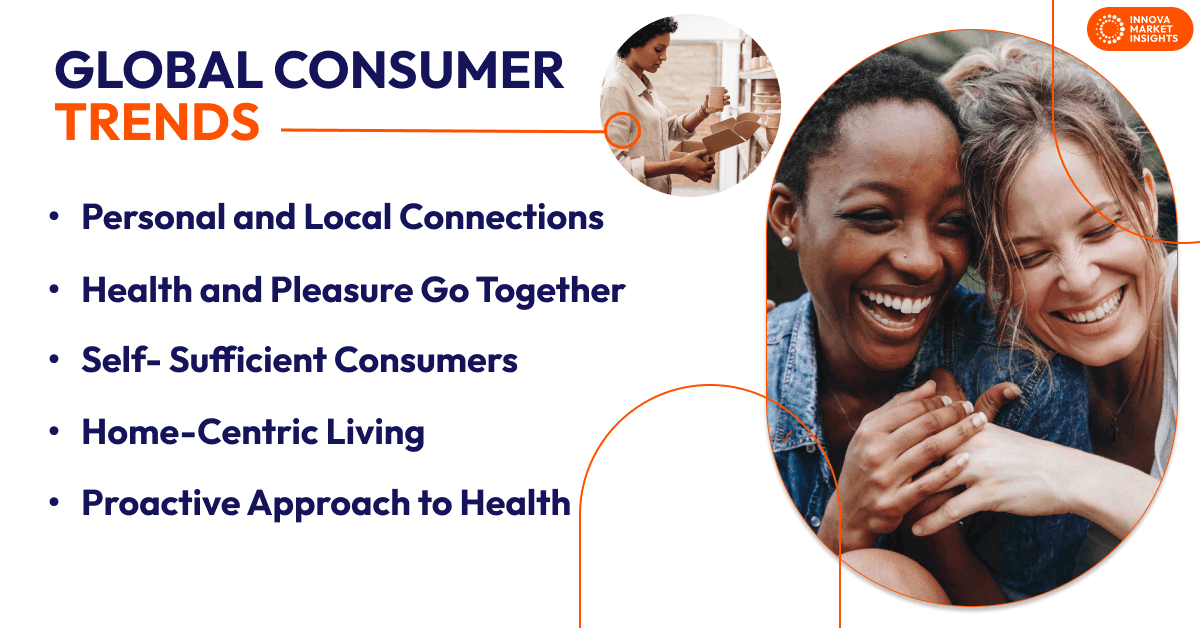 Health and Pleasure Go Together   
Health and pleasure are no longer mutually exclusive for consumers. There is a consumer trend towards healthier places to hang out on social occasions. For Generation Z, for instance, this includes opting for physically active first-date options like workout classes instead of going for drinks.  
In the world of food and beverages, consumer trends are displaying positive moves toward choosing treats that are better for you, with a large percentage of consumers also decreasing or cutting back on alcohol. Consumers are also gaining enjoyment from more everyday moments of happiness, indicating a leaning towards more intrinsic, lower energy sources of reward.  
Self-Sufficient Consumers   
Consumer trend analysis shows consumers are becoming more self-reliant these days, bolstering constrained finances with 'side hustles' and regularly seeking out the best deals online. This self-sufficiency is being driven by financial, health, and environmental reasons; for example, one in five consumers say they shop online to reduce fuel costs. Meet the needs of the 'Savvy Shopper,' a more demanding, digitally aware, and price-conscious consumer with options that encourage making choices that benefit both consumers' pockets and the planet.   
Home-Centric Living   
Following the pandemic, the home has become even more of a hub for work, entertainment, leisure, and shopping. The home-centric living consumer trend tells us that home is also a sanctuary, with one in four consumers saying they are spending more time at home because of the anxiety they feel around the multiple crises in the world.   
Home-centric living has shown two consumer trend impacts: Increased time spent in and around the home has impacted décor and the use of spaces, and the second consumer trend impact has opened up new needs and occasions. This move to more home-centric lifestyles provides an opportunity both to elevate social occasions at home and make them feel more special, in addition to providing flexible and convenient solutions to meet different needs across the day.   
Proactive Approach to Health   
One in three consumers say a lack of good healthcare provision is a personal concern. Consequently, they are looking for advice from a wider range of places (family and friends, YouTube, and social media) on top of the increased consumer trend of investing more in preventative health to manage future health issues actively. With the consumer trend of a larger focus on 'self-care' through aspects such as diet and nutrition and increased self-knowledge around individual health needs, there is a growing market for more personalized and convenient health options. An example of this trend is Nourished x Neutrogena Skin360's SkinStacks, a range of personalized supplements in the form of 3D-printed skin nutrient gummies customized to individual needs.   
What's Next?  
The Global Consumer Trends 2024 report looks at how evolving attitudes to health, the environment, treating, and socializing are impacting behavior and shaping choices in 2024 and beyond. It identifies current innovation themes and future opportunities in the value of connection, wholesome enjoyment, home-centric living, savvy shopping, and healthcare to self-care consumer trends.  
Click Here to watch our trends webinar and learn more about this year's trends.

This article is based on our report, "Global Consumer Trends: Opportunities for 2024."
If you are interested in receiving this report, feel free to request a demo through our Contact Form.