Generation Z, those born between the mid-1990s and early 2010s, is a diverse and influential group with a substantial impact on the food and beverage industry. Their desire for indulgent, exciting, and unique flavors has led to a surge in innovative products and flavor combinations. Let's look at the factors driving Gen Z's taste preferences and highlights of the latest flavor trends in the market. 
Embracing Innovation and Adventure 
Gen Z values new experiences and is always looking for something different. They are more likely to try trendy, premium, and limited-edition products, including those endorsed by celebrities, than other age groups. Their adventurous spirit has caused a rise in exclusive and exotic flavors, particularly in beverage and snack categories like sugar confectionery.  
Gen Z Social Media Trends: Viral Posts 
Social media plays a significant role in shaping Gen Z's food preferences, making them more likely to follow food and beverage trends on social media and share their experiences online. When home cooking, 44% of Gen Z respondents get flavor inspiration from social media, while 38% turn to digital video media and friends and family for ideas. The top social media platforms for flavor inspiration among this generation are YouTube (56%), Instagram (47%), and TikTok (43%). The visual appeal of food and beverages is crucial for this generation, as they often aim for their posts to "go viral." This has driven increased demand for enticing and unique flavor combinations.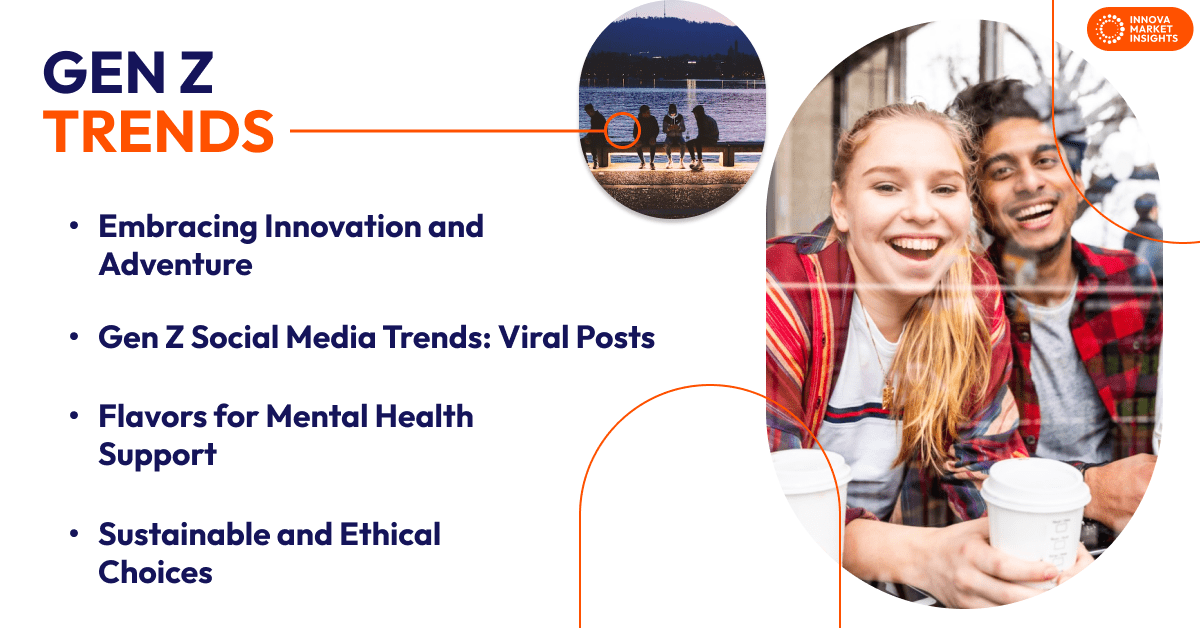 Gen Z Health and Wellness: Flavors for Mental Health Support 
While indulgence is a key factor for Gen Z, they also value health and wellness. They likely seek out allergen-friendly products, nutrition boosts, or products that deliver mental health support, including energy, focus, or mood improvement. Their attitude towards health and wellness is driving the development of products with unique flavor offerings that align with health appeal, such as botanical soft drinks and plant-based foods. As for flavors that align with wellness, it was found that 33% of respondents chose sweet flavors to feel cheerful or happy, 32% chose flavors to feel relaxed or calm, and 31% to feel comforted. Fruit flavors, as well as brown flavors  chocolate and caramel, are popular options for meeting these emotional needs. 
Gen Z Sustainable and Ethical Choices 
Many Gen Zers are presumed to prioritize environmental and social causes, leading them to consume more on-trend products such as plant-based fermented foods. They associate plant-based products with not only being healthier but also with environmental and ethical benefits. Their concern for social and environmental causes created an increased interest in plant-based offerings across various retail grocery categories, with Gen Z seeking more variety and improved recipes for existing options. 
Gen Z Preferences: The Emergence of Indulgent and Unique Flavors 
In response to Gen Z's preferences, the food and beverage industry has seen a surge in indulgent and unique flavors. Examples include collaborations between popular brands, such as Victor Allen's and Mars Wrigley's Snickers and Twix-flavored iced coffee drinks, and Ben & Jerry's partnership with Tony's Chocolonely for co-branded products focusing on a joint mission for 100% slave-free chocolate. 
What's next? 
Generation Z's desire for indulgent, exciting, and unique flavors has significantly influenced the food and beverage industry. As this generation continues to shape market trends, we expect to see even more innovative products and flavor combinations catering to their adventurous and health-conscious preferences.
This article is based on our global report, "Gen Z – Desire for Indulgent, Exciting & Unique Flavors."
If you are interested in reading our report on Gen Z – Desire for Indulgent, Exciting & Unique Flavors, feel free to request a demo. You can do this by either booking a demo or using our Contact Form