Sports nutrition moved into the mainstream over the past decade with consumers looking for a wide range of health benefits and a product that delivers it quickly and easily. Plant-based, functional health benefits, consumer health pursuits, and the cost-of-living crisis are all impacting the sports nutrition category, revealing innovation opportunities in this fragmented category.  
Drinks Lead the Market 
Drinks make up the majority of sports nutrition products. When asked which product in the functional and sports nutrition categories they purchased the past 12 months, most consumers responded with drinks, followed by bars and powders, respectively. Vietnam, China, and Japan lead in terms of highest purchase of sports drinks.  
Consumption is Increasing 
31% of global functional and sports nutrition consumers have increased their consumption of sports nutrition products compared to a year ago, while 60% maintained their consumption. Health and increased physical activity are the top reasons for increased sports nutrition consumption. Nearly half of these increasers did so because they consider it healthy and it supports their healthier living goals, while 43% increased their consumption because they exercise more and increased their physical activity. One third of the 9% that decreased their sports nutrition consumption attribute the decrease to a change in their budget.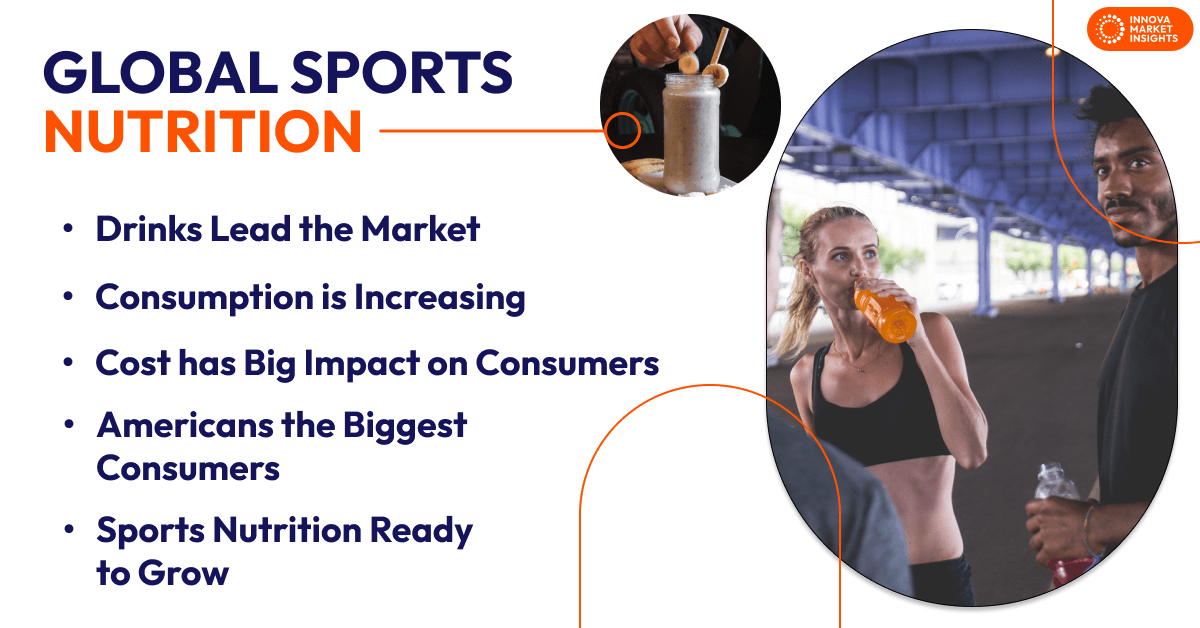 Cost has Big Impact on Consumers 
Cost has the biggest impact on consumers for purchasing sports nutrition, followed by taste and health. This is followed by nearly a quarter of global consumers who are most influenced by the functionality and effectiveness when purchasing these products. After purchasing, consumers are most likely to consume functional and sports nutrition products for breakfast, an afternoon snack, or lunch.  
Americans the Biggest Consumers 
The US tops global per capita consumption of sports nutrition products, followed by Australia and the UK. US consumption came in at 56kg per capita in 2022, while Australia came in at 32kg followed by the UK at 25kg per capita. The fastest volume growth is seen in Eastern Europe with a projected growth rate of 12% over the next four years. 
Sports Nutrition Ready to Grow 
New product development in the global sports nutrition has been flat since 2019, with a five-year CAGR of 0%. This is likely attributed to supply chain constraints brought on by the global pandemic. The effects of these constraints have not completely stabilized across the highly fragmented sports nutrition market due to the lack of power players. However, sports powders are the only subcategory to demonstrate positive growth at +6% rate between 2018 and 2022. 
Consumers Most Influenced by High Protein Claims 
Consumers are most influenced by 'high source of protein' and product safety claims, followed by claims of low sugar and functional ingredients on sports nutrition products. As for active health claims, 'energy and alertness' take the lead in the category at around 34% of launches in 2021-2022. Packaging claims surrounding convenience have also skyrocketed in the sports nutrition category.  
Plant-Based Developments 
Sports nutrition companies are aiming to satisfy vegan and vegetarian consumers with rich and enticing flavors, offering plant-based products that do not sacrifice taste, have multiple sources of plant-based protein, and optimize vegan protein value. Sports nutrition companies in the luxury space are including gourmet flavors and premium ingredients in their products. Brands also hope for a competitive edge by adding credibility to their products via research and certification partners and tech enhancements. One of these recognized product certifications being from ESSNA, the European Specialist Sports Nutrition Alliance.  
What's Next? 
The highly fragmented nature of the global sports nutrition and protein category and the fact that innovation has been relatively flat in recent years could lay the groundwork for acquisitions and mergers, giving newly energized brands the recovery backing they need to innovate across sports nutrition product subcategories. Also, watch out for novel ingredients that are optimized for absorption and effectiveness in laboratory settings or through advanced technologies that will distinguish products.  
This article is based on our report, "Protein Power: Fueling the World with Global Sports Nutrition."
If you are interested in receiving this report, feel free to request a demo through our Contact Form.