Coffee Trends
The world of hot beverages is ever-evolving, with global flavor trends in hot coffee and hot tea constantly changing to meet consumer preferences. Half of global consumers purchased hot coffee in the past year, with flavor being the top influencer in purchasing decisions. Here we will explore the latest trends for two beloved beverages with insights into the most popular flavors.
Dissecting the Symphony of Hot Coffee Trends
Brown flavors continue to dominate the hot coffee segment, with coffee, chocolate, and caramel leading the pack. These rich, indulgent flavors have long been favorites among coffee enthusiasts.
Rising Stars: A Look at the Hottest Coffee Flavor Trends
Non-brown flavors are also growing, contrasting with the traditional coffee experience. Nuts, vanilla, fruits, spices and seeds are becoming increasingly popular. Among these non-brown flavors, fruit flavors have experienced significant growth, driven by the increased use of berries and summer fruits. These fruity notes give a twist to coffee, providing a more complex flavor profile. Spices and seeds have seen rapid growth, +18% CAGR, over the past four years, with saffron and cloves the fastest growing.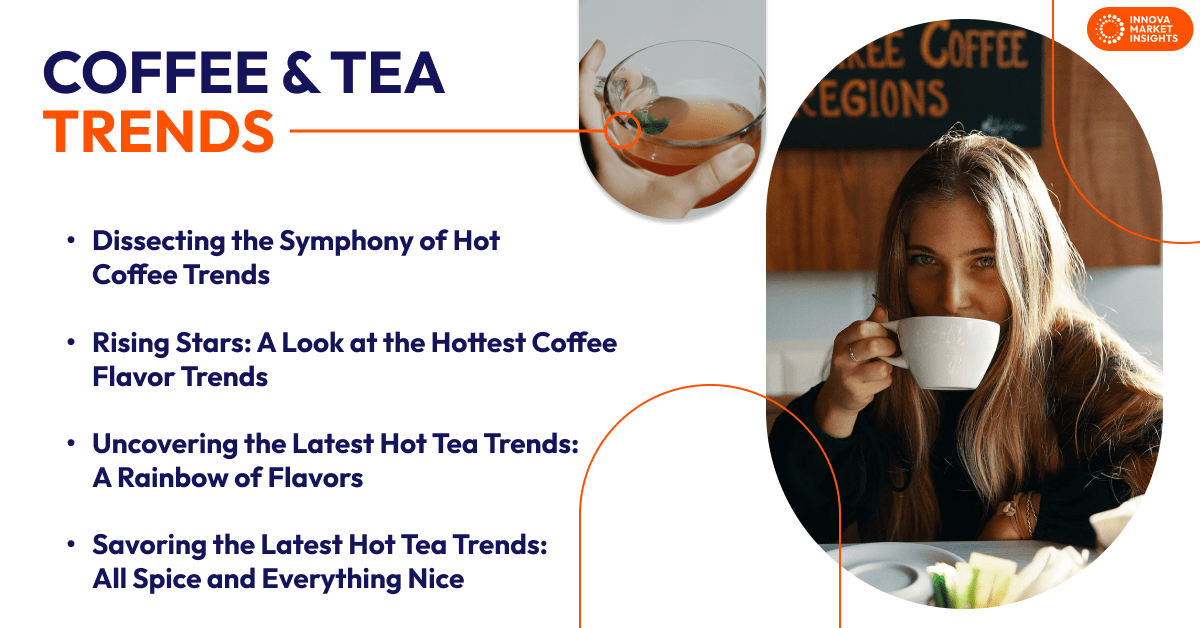 Tea Trends
A third of global consumers have purchased hot tea in the past, with flavor being the decisive factor in their choice. The three biggest flavor categories taking the top three places in launches are fruit flavors, flowers, spices and seeds. Here is what you need to know about this segment's flavor trends.
Uncovering the Latest Hot Tea Trends: A Rainbow of Flavors
Hot tea, often associated with health and wellness, offers a wide variety of flavors. Fruit flavors lead the flavors among blended tea making up 28% of new tea launches. Citrus and berries/summer fruits are the primary drivers for the growth in fruit flavors, adding cues of freshness and a health halo to the tea experience.
Savoring the Latest Hot Tea Trends: All Spice and Everything Nice
Spices and seeds flavors make up 16% of new product launches, with ginger taking the top spot among these flavors. Cinnamon and licorice have also experienced growth, offering a spicy note. The increased popularity of this flavor category highlights the consumer's desire to balance indulgence and health.
Hot and upcoming tea trends
Botanical teas, making up another 16% of new tea product launches, have seen an increase due to the growth of chamomile. This popular flavor is associated with soothing and relaxation and has a timeless appeal among botanicals.
What's Next
As flavored varieties of hot coffee and hot tea expand and consumers continue to seek out a balance between indulgence and wellness, expect to see more use of ingredients that offer both, such as chocolate and botanicals that bring flavor, color, and additional health benefits.
As global trends continue to shape the market, consumers look for an expanding array of taste experiences that cater to their evolving preferences for discovery and authenticity.
Innovation in the beverage market is key to maintaining brand perception and driving growth. New flavors must be ahead of the curve to remain relevant and appealing. This may involve unique flavor combinations, incorporating functional ingredients, or offering customizable options to cater to individual tastes.
This article is based on our global report, "Global Flavor Trends in Hot Coffee and Hot Tea."
If you are interested in reading our report on Global Flavor Trends in Hot Coffee and Hot Tea, feel free to request a demo. You can do this by either booking a demo or using our Contact Form