Consumers are increasingly interested in improving their health through their diet over the past five years and look towards the functional beverage market as a convenient means to boost nutrition, mental and physical health, and performance. 
Relying on Health-Boosting Food and Beverage 
One-fifth of consumers say they choose food or beverages that contain health-boosting ingredients when asked how they seek to eat healthily. Consumers also say they are looking for understandable communication that reinforces a product's health messages. Looking at the functional beverage market at a global level tells us that consumers in Asia are most likely to choose food and drink that boost health.  
Consumers Claim to Invest in Health 
Some consumers say they are willing to pay more for food and beverage products that boost physical health or mental health. When asked which functions the food and beverage products they purchased contained, immunity boosting, gut and digestive health and short-term energy boosting topped the list in functional beverages, with each of these health claims showing between 6% and 9% growth compared to 2021.   
Generational Preferences Differ 
Each generation, from Gen Z to Boomers, is buying products that boost immunity or support gut health, with Gen Z and Millennials more likely to do so. Comparisons between 'purchasing' and 'interest in' certain functions point to new product development opportunities in the functional beverage market by generation. For example, Generation Z and Millennials are more interested in cognitive and muscle-building functions than older consumers. Younger consumers also seek out positive engagement and new experiences when it comes to functional beverages.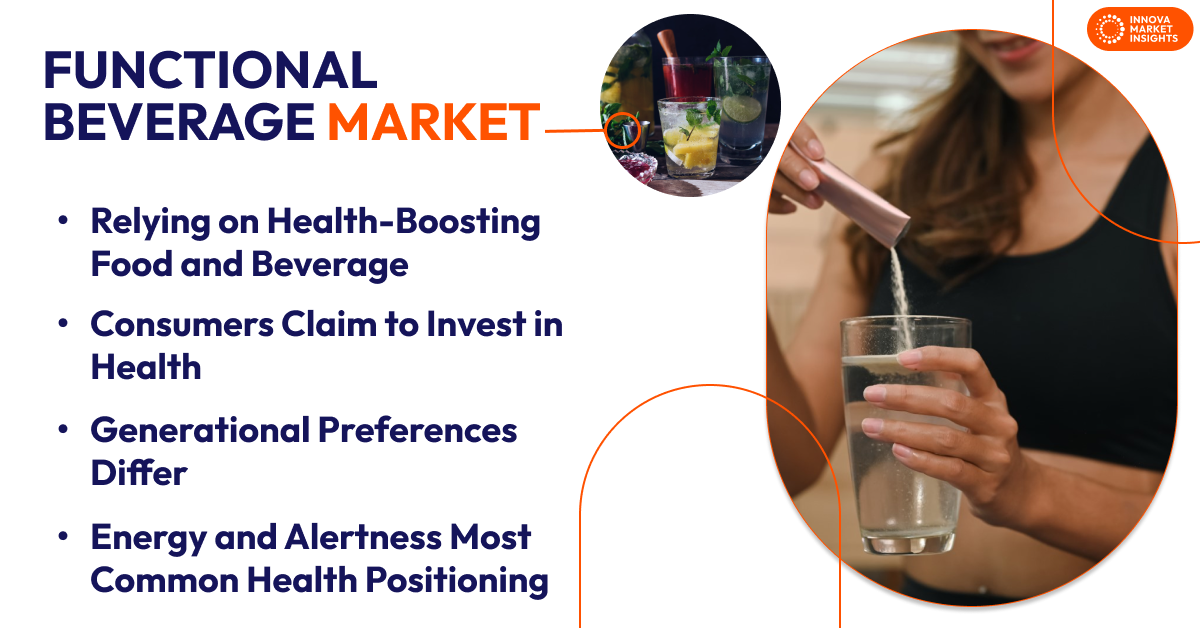 Energy and Alertness Most Common Health Positioning 
Energy and alertness, immune health, gut health, and emotional and cognitive health are the four most used claims in functional beverages, accounting for 61% of launches. Energy and alertness is the second most common health positioning globally for functional beverages, with 23% of new product launches carrying the claim over 2018-2022, with a +5% CAGR. 
Energy and Alertness Carry Different Meanings 
Energy and alertness-supporting functional ingredients are found in functional beverages targeted towards athletic performance, cognitive enhancement, and increasing overall energy. One ingredient trend is medium-chain triglycerides (MCTs) that provide energy for exercise. Cognitive enhancement is supplied through nootropics – a 'smart drug' or herb that improves cognitive function – such as L-theanine, a green tea-derived, non-protein amino acid that supports the effects of caffeine without raising blood pressure or inducing anxiety. 
Gut Health Largest Functional Beverage Segment  
Gut health is the largest functional beverage market segment, accounting for 26% of functional beverage market launches (2018-2022). Dairy drinks represented over half of gut health launches, accounting for that category's high share of total functional beverages' new products. High fiber, probiotics, and prebiotics claims showed stronger launch trends than the gut health segment overall. In fact, launch counts for the emerging prebiotics claim more than doubled between 2018 and 2022. 
Emotional and Cognitive Health was the Smallest Segment 
Emotional and cognitive health beverages posted a CAGR of +4% between 2018 and 2022. Adaptogen and nootropic claims also showed strong growth in the functional beverage market during this period, with adaptogens being the strongest. Soft drinks were the most important category for this segment, and sports drinks shared their highest share among these products. Emotional and cognitive health claims are most prevalent in the functional beverage market in North America. 
Top Functional Ingredients in Emotional and Cognitive Health 
Citicoline and cobalamin (vitamin B12) are two of the top functional beverage ingredients. Citicoline is a nootropic that benefits concentration, working memory, and attention. Cobalamin has been shown to aid in regulating key neurotransmitters such as serotonin, GABA, and dopamine, which balance mood, reduce anxiety, and enable mental clarity to allow users to use their full cognitive capacity. 
What's Next?  
Gut health is the number two food or beverage function among global functional beverage market consumers of all ages for both purchasing and desirability. Expect to see an introduction of functional beverages and other products with both gut health and immunity health claims and the expansion of new gut health functional beverages into less developed regional markets. Energy and alertness is the second-largest functional beverage market segment for new products and experienced launch count growth between 2018 and 2022. Watch out for an introduction of functional beverages and products that blend functional benefits of the emotional and cognitive segment and energy and alertness segments with increasing emphasis on alertness in non-sports products.  
This article is based on our report, "Health-Boosting Delights: Global Analysis of RTD Functional Beverages and Consumer Preferences."
If you are interested in receiving this report, feel free to request a demo through our Contact Form.