Sweet packaged foods include chocolate, sugar confectionery, sweet bakery (cakes, pastries and sweet goods, sweet biscuits/cookies), desserts, and ice cream. All are highly driven by flavor and flavor innovation.
Top Trends Drive Flavor 
Innova's Top 10 Trends for 2023 are relevant to flavor development. The #1 trend, Redefining Value, refers to drawing the line on compromise. Claims, upcycled ingredients, and local provenance around flavors can help attract consumers. Plant-Based: Unlocking a New Narrative is demonstrated by strength in botanical and superfood flavors. Unpuzzle Health opens the door to healthier flavor choices. Generational Push sees suppliers target hybrids and limited editions to the young. Quick Quality involves delivering authentic flavors in more convenient ways, while Revenge Spending relates to flavorful splurging. 
Flavor Drives Consumer Food and Drink Choices 
Flavor is the #1 factor in consumers' food and drink choices, including sweet treats. Sweet categories also invite flavor experimentation, with almost 1 in 3 consumers surveyed globally expressing willingness to experiment with desserts and sweet bakery. Younger consumers are most experimental, with Generation Zs over-indexing the average. Many sweet foods are bought on impulse, and taste is the primary consideration: nearly two-thirds say they would make an impulse purchase if a product had an innovative flavor. Limited edition development and premium versions with appealing taste and flavor are also influential in impulse shopping.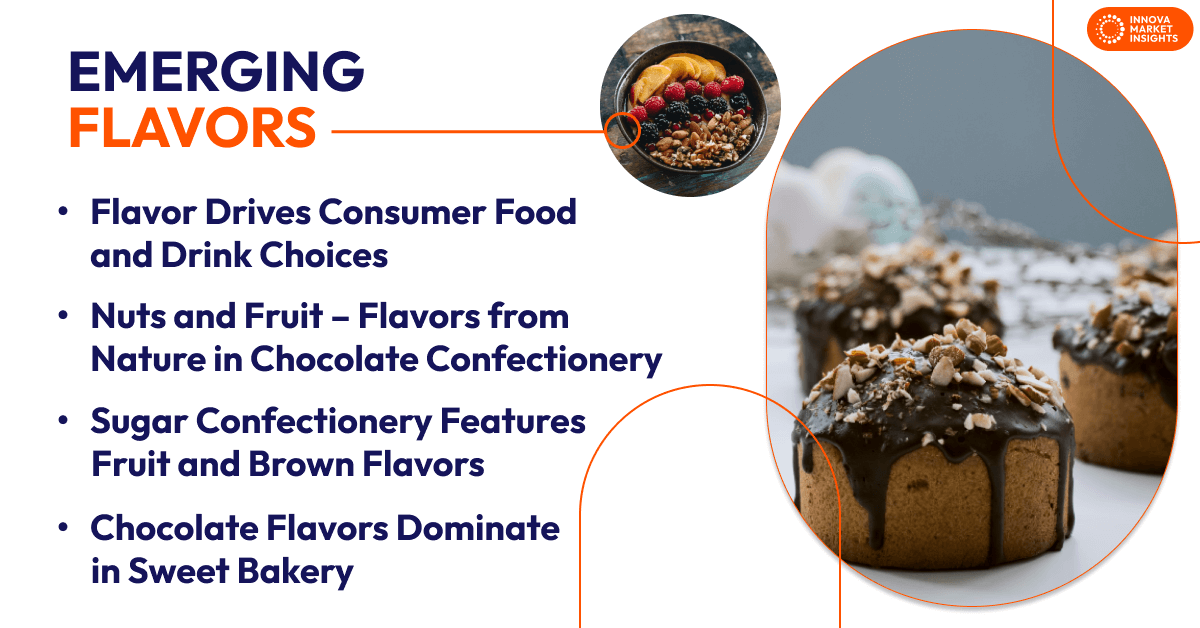 Nuts and Fruit – Flavors from Nature in Chocolate Confectionery 
Nuts and fruit have the strongest credentials in chocolate confectionery. Nuts have cemented their position as the top flavor category, with diversification in the rise of less common nut flavors. Fruit choices also continue to diversify, with current strength in peach, mango, and passion fruit. 

 

Indulgence also drives flavor development. Dessert-inspired flavors are doing well, while the crossover flavors coffee and peanut butter are climbing thanks to their added indulgence. 

 

Seasonal fall and winter flavors are proving popular in modern chocolate development, with gingerbread, cinnamon, and speculoos all seeing double-digit annual growth. 
Sugar Confectionery Features Fruit and Brown Flavors 
Fruit flavors dominate sugar confectionery, but brown and indulgent flavors with smoother tastes, such as cake, cookie and pie, dairy flavors, and vanilla, are growing more rapidly. Meanwhile, fruit choices continue to diversify, and mixed fruit blends remain popular. Fruit tastes were the biggest climbers among the top 20 flavors over the past five years. Although strawberry, orange, and lemon are solid tastes, pineapple, apple, peach, and raspberry all jumped in ranking in recent years. 
Asian flavor preferences drive the growth of hawthorn in China, soda in Japan, and masala in India. 
Chocolate Flavors Dominate in Sweet Bakery 
Chocolate flavors take four of the top five places in sweet bakery flavors. Growth also continues with traditional flavors such as butter, brown sugar, and cinnamon. Hybridization is common, with many flavors crossing boundaries, e.g., cookies with cake flavors or cakes with dessert flavors. Nut and fruit tastes continue to diversify as suppliers look to add value. 
Chocolate, Vanilla, and Strawberry at the Top of Desserts and Ice Cream 
Milk chocolate is the top flavor in the desserts and ice cream market, followed by vanilla, strawberry, caramel, and the increasingly popular salted caramel. Indulgent flavors include white chocolate, almond, cream, cocoa, dessert, cake, and cookie flavors. 
Regional Trends Vary 
Indulgence, seasonality, and premium quality drive flavor demands in Europe. Asia has many local on-trend flavors unique to the region. North America is the most diverse market in terms of flavor, and trends are not clear. North American and European taste trends influence Latin America; local fruits also perform well. 
What's Next? 
The rise of "Instagrammable" products supports combinations of colors and flavors. Hybridization is likely to continue evolving as manufacturers look for new ways to include ingredients from alternative sweet food categories. To add value, suppliers are tweaking classics, for example, white chocolate and pistachios, as alternatives to traditional flavors. Tropical and exotic fruits also are growing in popularity.
This article is based on our report, "Emerging Flavors in Sweet Packaged Foods."
If you are interested in receiving this report, feel free to request a demo through our Contact Form