Snacking is an integral aspect of today's busy lifestyles. With health top of mind, snack selection can align with wellness goals. Better-for-you snacks can include reductions in unhealthy ingredients, such as sugar, fat, and salt, and those with boosted levels of desirable nutrients, including protein and fiber.
Consumers Eat Healthier to Live Healthier
Three-quarters of consumers surveyed globally took some action in the past year to live healthier. Two healthier living trends are eating a healthy diet – up to 20% pick foods to boost health or limit "bad" ingredients – and getting regular exercise. Snacking may or may not be part of a healthy diet. Indeed, nearly 30% of consumers say that they limit snacking. Key features of a healthy snack include boosted positives like fiber or protein and reduced negatives like sugar or fat. In the eyes of the consumer, eating healthfully can include overindulgent healthy snacks. 
Better-For-You Versus Sweet or Savory Snacks 
In the snacks market, consumers are leaning toward better-for-you snacks. Consumption trends in snacks reveal about one-third increased consumption in the past year, compared to around 15% who ate more sweet or savory snacks. Only one-fifth of those who increased sweet or savory snack eating view their snacks as healthy. Furthermore, snack consumption trends reveal that over 40% of snack consumers decreased snack consumption due to perceived unhealthiness. Up to 30% of those surveyed opt for a healthier version of most sweet or savory snacks, especially nuts and seeds. Reduced sugar or fat claims trends show that for sweet and savory snacks, these claims influence a higher proportion of consumers than high fiber or protein claims.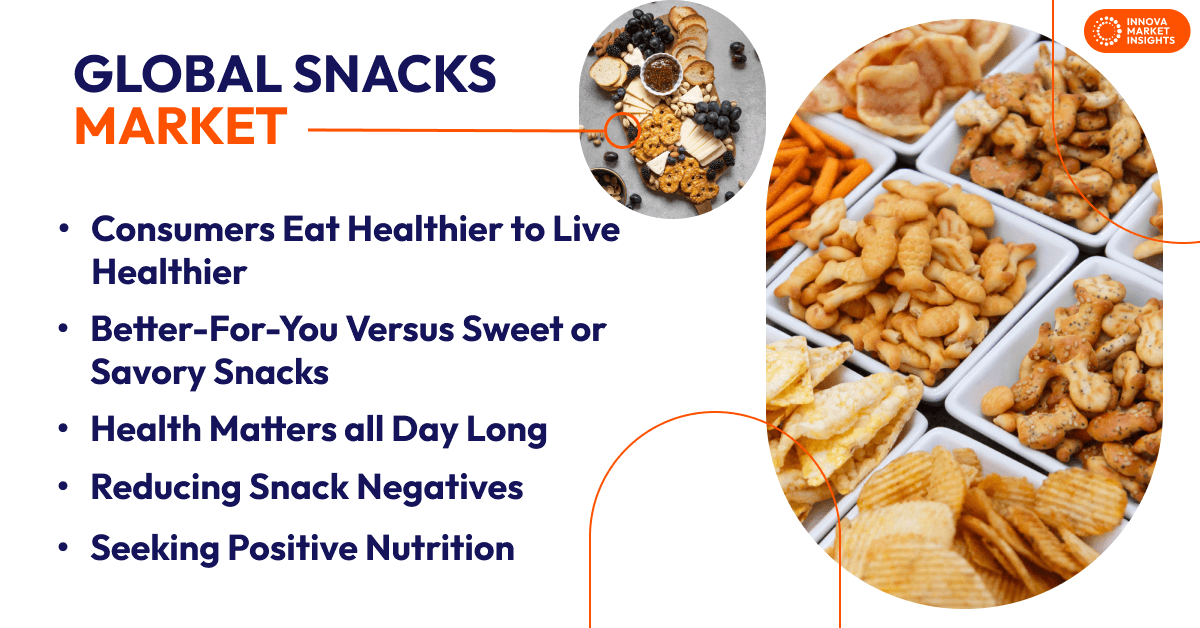 Health Matters all Day Long 
Sweet snacks trends show sweet snacks are more preferred than savory options across various occasions in the snacks market. Treats for children tend to be sweet, while savory snacks are chosen more for traveling and commuting. Snacks trends analysis reveals health is the most often cited important factor when choosing a breakfast snack, a morning snack, dinner, or a child treat, and among the top three important factors for snacks for lunch, an afternoon snack, an evening snack, or snacking on the go. 
Reducing Snack Negatives 
Sugar, fat, and salt lead in snacks market trends negatives. These snacks trends show over half of consumers globally are conscious of limiting sugar in their diets, while at least one-third are reducing fat or salt. With health in mind, one-quarter increased their snacks consumption of free-from or with reduced levels of sugar, salt, or calories, and one-fifth say they are influenced by low sugar or fat claims when purchasing sweet or savory snacks. Considering sweetness in snacks trends, consumers most prefer products with naturally sweet ingredients, followed by reduced sweetener levels or natural alternatives like stevia.
Seeking Positive Nutrition 
Positive snacks market nutrition trends reveal that several positive nutrition features attract snackers. Up to one-third increased or are influenced by snacks with added health benefits, including support of body functions like immune function, better sleep, or gut health; healthy fats; and fiber, protein, and functional ingredient claims. 
Sweet snacks trends reveal sweet snacks reduce negatives; savory snacks trends reveal boosted nutrition.  
Sweet snacks are more apt to have reduced negative claims – no added sugar, reduced sugar, or low sugar – while health claim trends in savory snacks show they are more likely to make boosted nutrition claims around fiber or protein. Savory snacks are also more likely to include low fat, cholesterol, or sodium claims. 
What's Next? 
Better-for-you snacks and trends in the snacks market are likely to continue their path toward health, with reduced sugar and fat, naturally sweet ingredients, high fiber and protein, and less sodium. They also may feature carbohydrate or cholesterol reduction. Prebiotic and probiotic features could be linked to gut health or digestion support rather than immunity as consumer focus on the pandemic wanes. Niche formats, new nutrient claims, and social responsibility features could align healthy snacks with broader personal values. 
This article is based on our report, "Next Generation Snacking: Exploring the Global Landscape of Better-For-You Sweet vs. Savory Snacks."
If you are interested in receiving this report, feel free to request a demo through our  Contact Form.