In today's health-conscious world, consumers are increasingly taking action to live healthier lives. Eating a healthy diet and engaging in regular exercise are the top actions taken to achieve this goal. Interestingly, nearly one-third of consumers limit their snacking habits, while some opt for snacks that boost their health or avoid "bad" ingredients. Here is what is shaping the global landscape of better-for-you sweet and savory snacks: the current trends, innovations, and consumer preferences driving the next generation of snacking. 
Better-For-You Snacks on the Rise 
There continues to be an increasing and significant shift in consumer preferences towards healthier snacking options. When it comes to sweet versus savory snacks, approximately one-third of individuals have increased their consumption of better-for-you (BFY) snacks. In contrast, only around 15% have increased their intake of sweet or savory snacks. The primary reason for choosing BFY snacks is to maintain a balanced diet. Consumers perceive snacks with boosted positives like fiber or protein and reduced negatives like sugar or fat as key features of a healthy snack.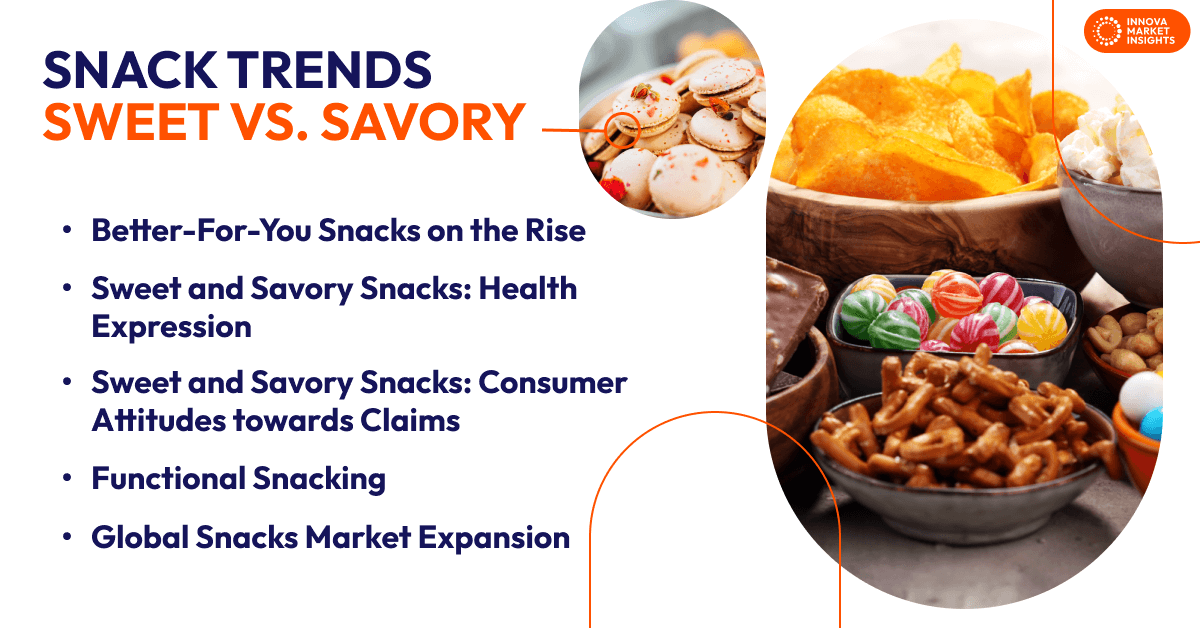 Health Expression  
Health is among the top three important trend factors for lunch snacks, afternoon snacks, evening snacks, or snacks on the go. Around 60% of consumers always look for healthier snack options, with half choosing healthier alternatives instead of indulgent ones. Over 60% of individuals consume healthy snacks daily, a rising trend in the past year. Sweet snacks often highlight reduced negative claims, influencing around 20% of consumers when purchasing snacks. While savory snacks with high fiber or protein influence nearly 15% of consumers. 
Consumer Attitudes Towards Claims 
Preferences for sweet snacks outweigh those for savory options across various snacking occasions. Sweet snacks are often associated with treats for children or snacks shared with family and friends. On the other hand, savory snacks are more commonly consumed during family or friend gatherings and during travel or commuting. Consumer behavior on these occasions has led to multiple trends. Over half of consumers globally are conscious of limiting sugar, while one-third or more are reducing fat or salt intake. Another trend is that approximately one-quarter of individuals have increased their consumption of snacks that are free from or have reduced levels of ingredients, supporting the growing popularity of claims such as no added sugar, reduced sugar, low sugar, low fat, low cholesterol, or low sodium across both sweet and savory BFY snacks.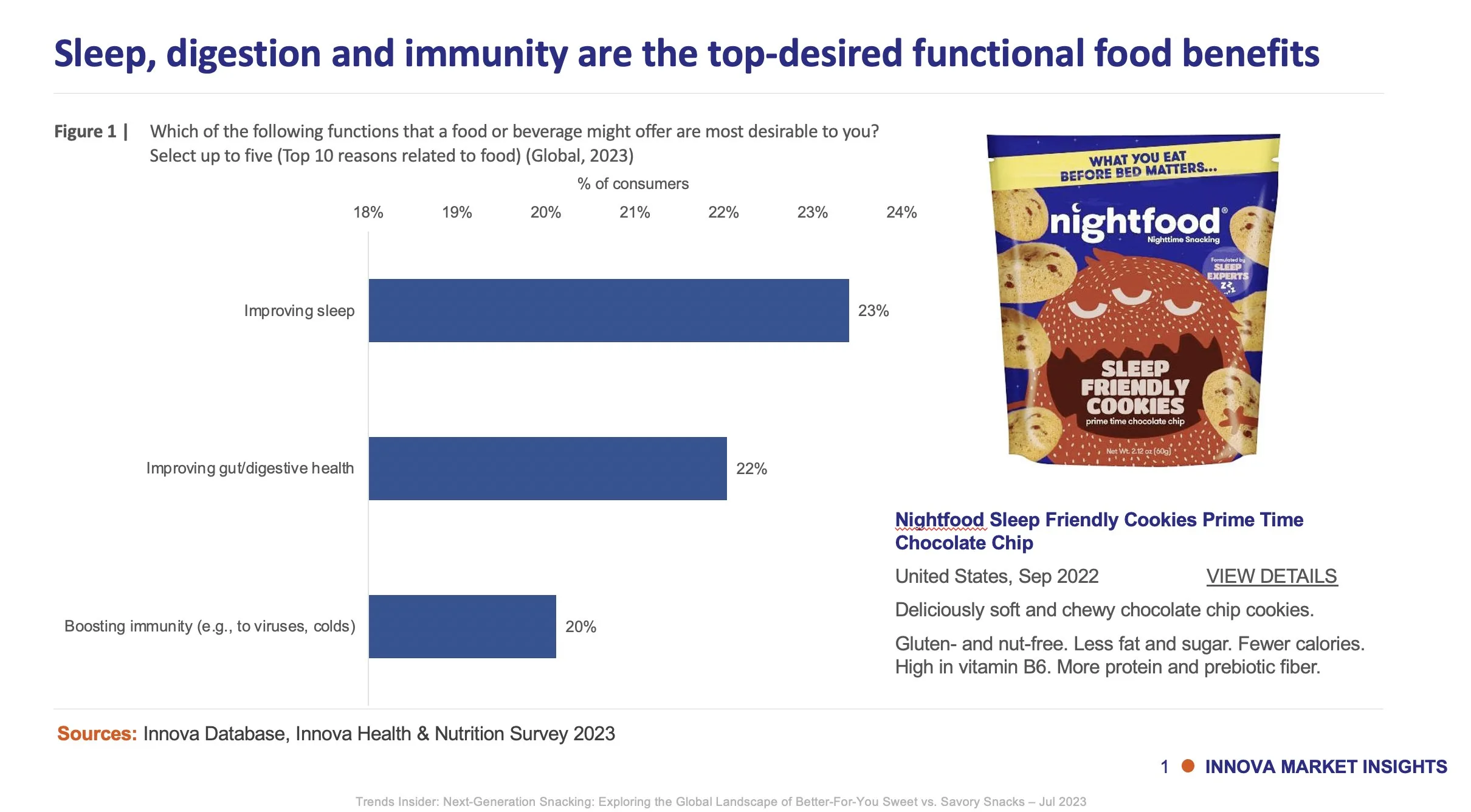 Functional Snacking  
Another emerging trend in the next generation of snacks is incorporating functional ingredients. Consumers are seeking snacks that offer additional health benefits beyond basic nutrition. About 20% of individuals desire foods with functional benefits that support body functions such as gut health, sleep-aid, and immunity, with one-quarter consuming more healthy fats.  
Global Snacks Market Expansion  
Looking ahead, BFY snacks are expected to continue following similar innovation platforms. Reduced sugar and fat, as well as naturally sweet ingredients like monk fruit, will be emphasized in sweet snacks. Savory snacks, on the other hand, may focus on high fiber, high protein, or low sodium options. Prebiotic and probiotic features may also be highlighted, with a shift towards gut health and digestion support as consumer focus on COVID-19 mitigation decreases. 
What's Next? 
The next generation of health snacking is about better-for-you options that offer reduced negative claims or boosted nutrition. Consumers are concerned not only about their health but also about sustainability and are seeking conscious consumption. BFY snacks that prioritize sustainable ingredient sourcing, carbon neutrality, clean water initiatives, and recyclability or reduced packaging footprints are gaining popularity. Additionally, consumers are seeking affordable nutrition and turning to BFY snacks as a cost-effective way to boost key nutrients. With various trends shaping the market, BFY snacks are evolving to meet consumer demands for healthier, sustainable, and socially responsible snacking options.
This article is based on our global report, "Next Generation Snacking: Exploring the Global Landscape of Better-For-You Sweet vs. Savory Snacks."
If you are interested in reading our report on Next Generation Snacking: Exploring the Global Landscape of Better-For-You Sweet vs. Savory Snacks, feel free to request a demo.
You can do this by either booking a demo or using our Contact Form.