sAs global health awareness continues to rise, the demand for sugar alternatives within the food and beverage industry has experienced significant growth. As a result, governments and consumers are increasingly seeking ways to reduce sugar consumption. This has led to the development of innovative sweeteners that can replicate the sensory and functional properties of sugar while reducing its negative health impacts. Here is what you need to know about the relationship between sweeteners for sugar reduction and its latest developments. 
Health and Wellness as Catalysts for Sweetener Adoption 
The association of sugar with various health concerns, such as weight gain, diabetes, and dental cavities, has prompted governments worldwide to introduce legislation encouraging manufacturers to reduce sugar content in their products. These measures aim to promote healthier choices among consumers and decrease the prevalence of sugar-related health issues. 
Consumer Trends and Expectations 
Consumers expect sugar-reduced products to maintain the sensory properties of sugar, such as sweetness, mouthfeel, and texture, with fewer calories and less sugar. Additionally, the popularity of carbohydrate-restricted diets, such as keto, low net carb, and plant-based diets, has further driven the demand for sugar reduction and alternative sweeteners. 
Sweetener Innovations 
Recent advancements in ingredient technology have enabled manufacturers to emulate the sensory and functional properties of sugar. Some of these innovations include: 
Rare sugars: These sweeteners provide the sweetness and bulk of sugar without the calories.

 

Non-nutritive sweeteners: Combinations of these sweeteners offer a balanced sweetness while minimizing aftertaste.

 

Soluble fibers: Next-generation soluble fibers with a mild sweet taste can partially replace sugar, reduce the amount of sugar declared on nutrition panels, and add bulk and fiber.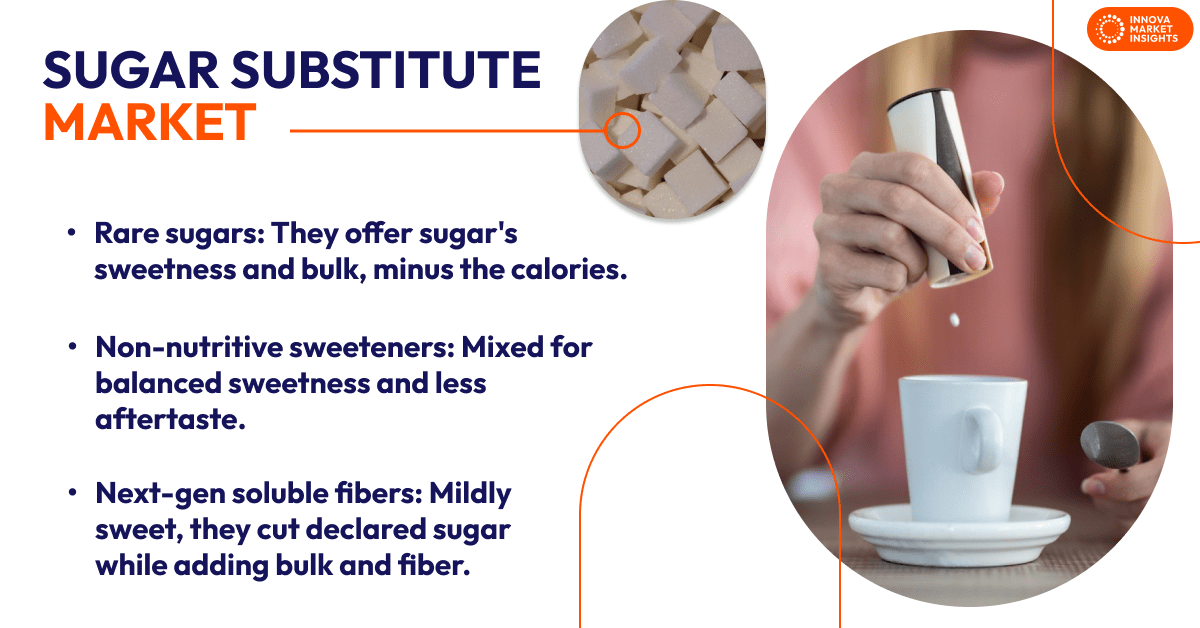 Trends in Sweeteners 
Sweeteners are extensively utilized in categories with a high proportion of sweet options, including soft drinks, dairy, confectionary, and cereals. The "no added sugar" claim is the most prevalent, and sweeteners that replicate sugar's features without the sugar content enable manufacturers to utilize this claim. 
Emerging Trends and Future Outlook 
As the sweetener market continues to evolve, we can expect to see the following trends:
Stealth health: Manufacturers may gradually reduce sweetness levels without notifying consumers of the changes.

 

Technology innovation and next-generation farming: These advancements will likely drive the development of new sweetening options, such as more rare sugars and sweet proteins.

 
The Future of Sweeteners 
The sweetener evolution in sugar reduction is a dynamic and rapidly changing field, driven by consumer demand, government regulations, and ingredient innovations. As technology continues to advance, we can expect to see even more exciting developments in the world of sugar reduction and alternative sweeteners. 
This article is based on our newest report, "Sweetener Evolution for Sugar Reduction – Global."
If you are interested in reading our report on Sweetener Evolution for Sugar Reduction – Global, feel free to request a demo. You can do this by either booking a demo or using our Contact Form