With the topic of sustainability becoming a bigger priority for consumers, brands and governments alike, the packaging market is undergoing a significant transformation.  
Claims versus certification in the battle against consumer food waste 
Consumers are increasingly seeking out products that reflect their personal values. According to Innova's research a significant 39% of consumers state that the health of the planet is their number one global concern. Although sustainability is not a primary purchase driver (yet) for the majority of consumers when making food choices, it can be a tie breaker. To attract such conscious consumers, brands use on-pack claims and certifications to highlight the environmental friendliness of their products.  
Consumers are noticing more environmental claims on their food and drinks, and trust in these claims is growing, particularly among younger generations. Brands can further increase this trust by proving claims' legitimacy, resulting in an increasing importance of certification. As far as upcycling is concerned, 60% of consumers say that independent certification is very or extremely important to them.  
Though the use of the Upcycled Certified logo from the Upcycled Foods Association remains limited and is still focused mainly on the US, more and more companies and brands are getting certified, while the use of the upcycled arrow logo is also on the increase. Product launches with upcycled or rescued ingredients have been growing but remain fairly niche, happening mostly in the treat and beverage categories.   
Upcycling food waste: continued growth in upcycled product launches 
Innova's research shows that the health of the planet is becoming the most important global issue for consumers, surpassing human health and economic considerations. In line with this concern for the planet, consumers show an interest in reducing waste, with two in three stating they are prepared to pay more for products designed to tackle food waste.
In addition, an increasing number of consumers has minimized food waste (46%) or recycled/upcycled items (39%) in the past year to support the environment or their social situation. These findings suggest a strong consumer interest in upcycling as part of their sustainability efforts.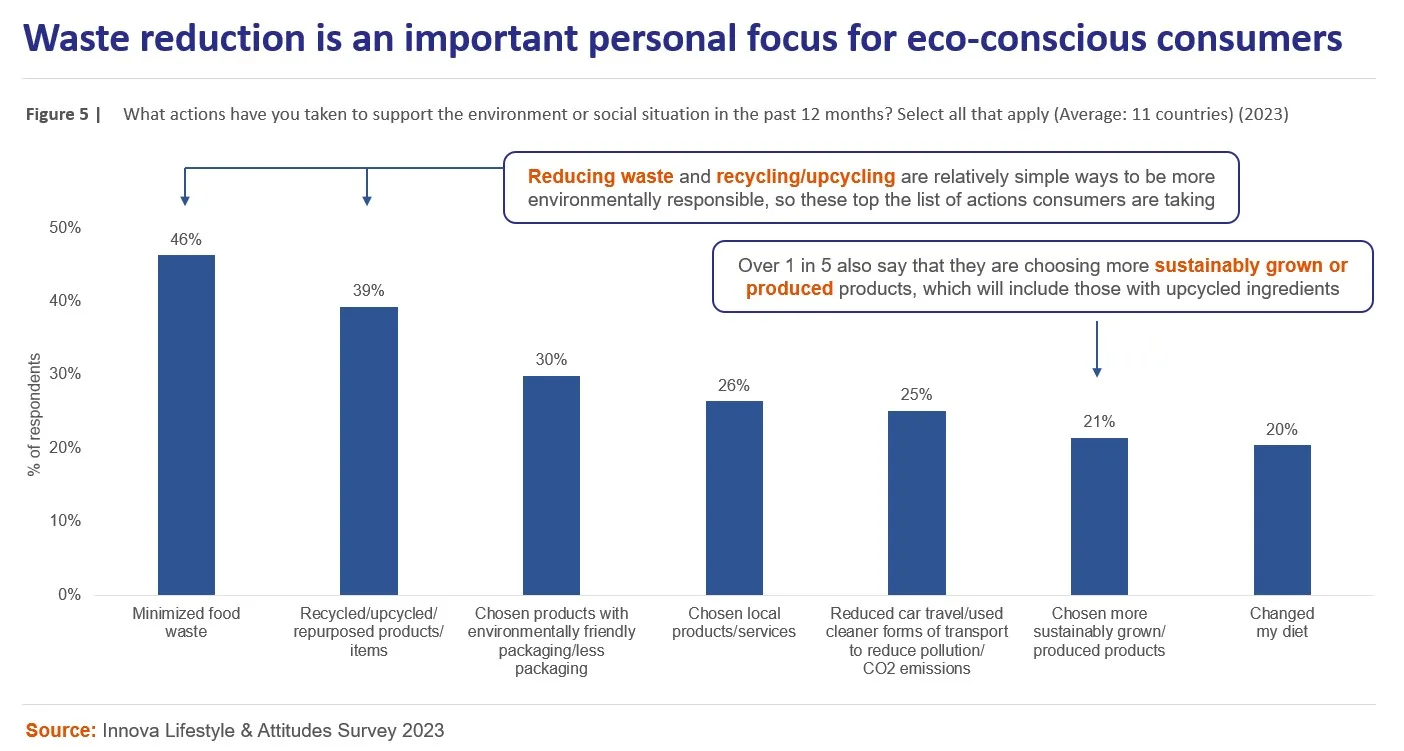 Upcycling is becoming a key waste management strategy, gaining traction among consumers and particularly among younger generations. Brands appear to respond, with Innova's market research showing a steady upward trend for upcycled product launches between 2018 and 2023: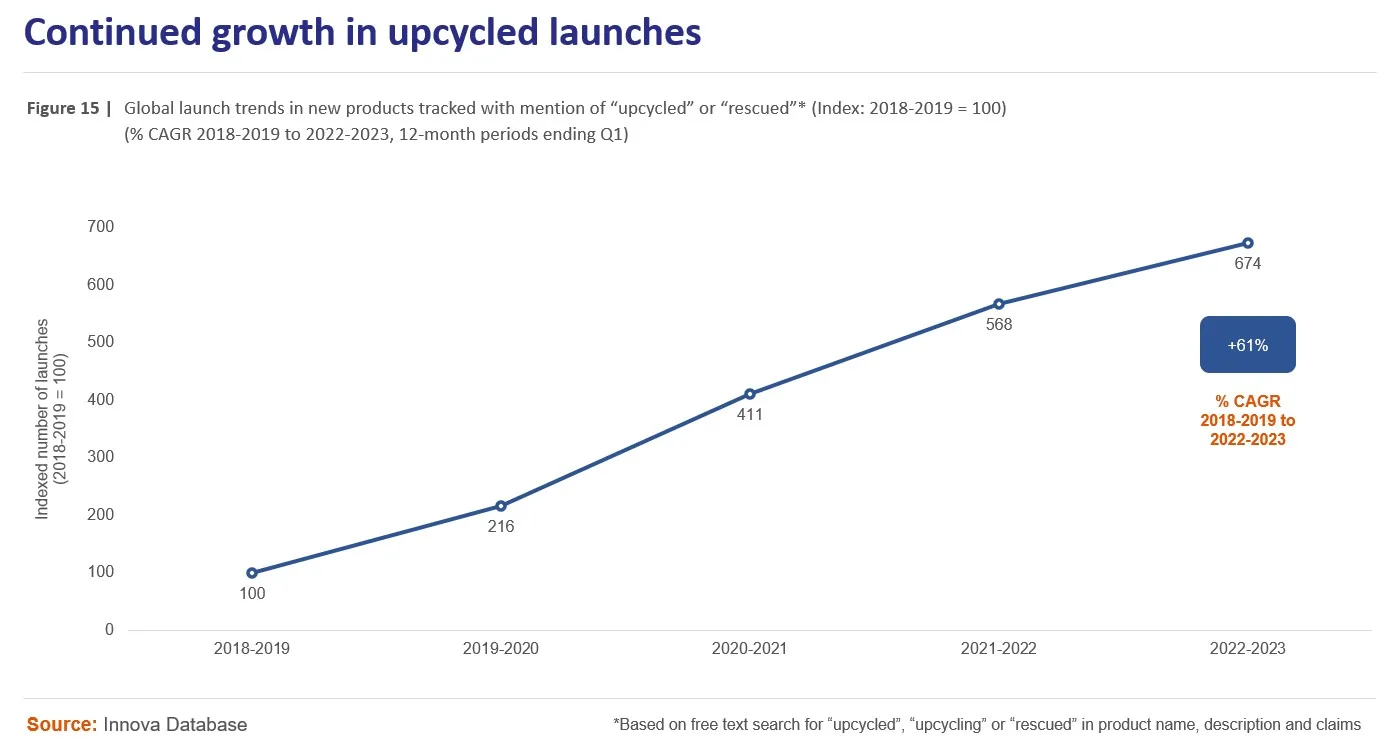 Environmentally conscious consumers: sparking packaging innovation 
Different qualities of packaging will motivate consumers to spend more. Innova's 2023 Packaging Survey shows that the top three packaging qualities consumers would pay more for are preserving food quality, sustainability (e.g. recyclability and reusability) and enhancing shelf life – all of which directly support the reduction of food waste.   
Consumers are clear about their expectations: when asked what they would most like to see brands do to help environmental or social causes, consumers list nature protection, sustainable packaging and improving waste management at 34%, 33% and 29%, respectively.   
Packaging plays a critical role in the move to a more sustainable future. From an increase in certifications and claims to consumers gravitating toward (and paying more for) planet-friendly packaging, brands can benefit from greater consumer buy-in if committing to innovative packaging solutions.  
Innova customers can find the report "Winning with Waste: Unlock the Upcycling Opportunity" here.
Not a customer but interested in more information? Learn more or contact us via Contact Form