Faced with multiple personal economic, health and emotional challenges over recent years, consumers feel they need to make changes. Three in five consumers say they are making lifestyle changes due to global issues of concern, and 21% have made much or a great deal of change. Understanding how and why consumer lifestyles and attitudes are changing is fundamental to ensuring your innovations meet evolving consumer needs. 
Consumers Investing in Local
Consumers navigating the many global issues around them say they are choosing to spend time with family and friends and investing in local. 64% of consumers say that these global issues of concern means that local communities will have to become more self-sufficient, also leading to consumers finding more conscious ways of living with an eye on both planet and pocket. This newfound appreciation for connection has led to nearly a quarter of global consumers saying they will prioritize spending on special food and drink to enjoy at home.  
Another consumer trend we will witness is increased shared experiences like rice buddying – a shared dining experience focused on social connection and expanding your social circle – in China. 
Health and Pleasure Go Together
Health and pleasure are becoming more intertwined whether choosing healthier spaces in which to socialize or better for you treats. One in two consumers said they prefer to treat themselves with everyday moments of happiness they can experience, along with a large percentage decreasing or cutting down their alcohol consumption. For Generation Z, this shift includes opting for physically active first-date options like workout classes instead of going out for drinks.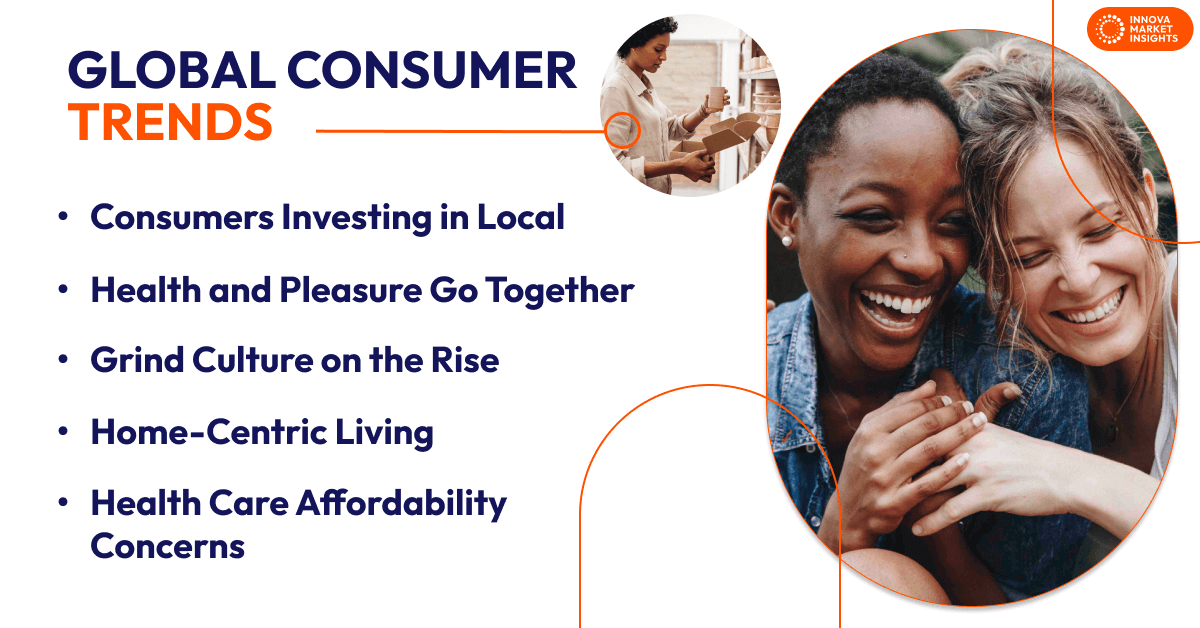 Grind Culture on the Rise
Consumers have become more adept at shopping online and are bolstering constrained finances with 'side hustles'. One in five consumers are also shopping online to reduce fuel costs. Meet the needs of the 'Savvy Shopper' a more demanding, digitally aware, and price conscious consumer who is taking actions that benefit their pocket as well as the planet.
Home-Centric Living
Following consumers feeling more connected post-pandemic, 1 in 4 consumers are spending more time at home or doing more at home because of multiple anxiety-inducing crises in the world around them, transfiguring home into a sanctuary. This increased time spent at home has impacted décor and use of spaces as well as opening-up new occasions and needs. Changing occasions drive demand for novel and elevated in-home experiences, as well as practical, convenient solutions.
Health Care Affordability Concerns
Lack of affordable healthcare is a concern for 1 in 3 consumers, they are investing in preventative health, and looking for advice in different places. Consumers are seizing the opportunity to capitalize on the need for 'Self Care' with solutions for those who are opting to manage health and future wellness proactively through aspects like diet and nutrition. An example of this trend is Nourished x Neutrogena Skin360's SkinStacks, a range of personalized supplements in the form of 3D printed skin nutrient gummies customized to individual needs.
What's

N

ext?
The Consumer Trends 2024 report looks at how evolving attitudes to health, the environment, treating and socializing are impacting behavior and shaping choices in the year 2024. Be on the lookout for trends surrounding the value of connection, wholesome enjoyment, home-centric living, savvy shopping, and healthcare to self-care.
Click Here to watch our trends webinar and learn more about this year's trends.

This article is based on our report, "Global Consumer Trends: Opportunities for 2024."
If you are interested in receiving this report, feel free to request a demo through our Contact Form.